Online Video Poker
Online Video Poker
Video poker and slots games are some of the most popular casino games in the online gaming industry, but unlike slots, online video poker involves the use of strategy and skill and can be highly lucrative if the player makes a good hand.
Simultaneously, video poker is not so complicated that beginner poker players would not be able to learn the rules of the game and get to playing online video poker in an hour. Furthermore, the rules for online video poker games are common to all variants (with a few exceptions) allowing poker players to try their luck with different games once they have learnt how the video poker works.
After selecting an online video poker game, a player will then have to choose his coin denomination. When playing online video poker for real money, players must remember that the coin denomination values depend on the video poker variant and the online casino offering the game. Once this has been done, players will have to make their wagers and then work to create a winning combination and avail the payout.

After the player makes his wager, the next step is to hit the Draw or the Deal button in the game which will cause the video poker machine to deal out a hand. It is at this point, that poker players will have to use their poker strategies to discard cards that will not help them create a strong hand and retain those that might help them win the game.
Playing Video Poker
Once this has been done and the player is satisfied with the cards he has discarded, the player will trigger the next round by pressing the Deal button again to receive fresh cards. This form of play will continue until the player is tired or has created a winning combination of cards. Once the player has finished, he can hit the Cash Out or the Credit button to receive his winnings.
Many online video poker games also come with a Double Playoff feature which gives players the opportunity to double their winnings. This is an optional feature and players can either choose to activate it or play it safe by keeping their money.
This gamble option is triggered when a player creates a winning hand and secures a payout. As soon as the player activates the Double Playoff feature, the machine deals out a new hand that includes four face-down cards and one face-up card. Players are then prompted to choose one of the face-down cards. If the value of the face-down card turns out to be higher than that of the face-up card, then the player's winnings will be doubled. However, if the chosen card is lower in value than the face-up card, the player will lose all his winnings.
To get a winning hand in a video poker game, a player will have to secure Jacks or Better, Kings or Better, Two Pair, Three of a Kind, Four of a Kind, Five of a Kind, Straight, Flush, Straight Flush, Royal Flush or a Wild Royal Flush. Some online casinos and video poker machines attach progressive jackpots to rare winning hands such as the Royal Flush. A player can become an instant millionaire should he hit such a jackpot!
Play Deuces Wild Video Poker
Cube Poker
Welcome to CubePoker ! Your website for the best online poker bonus reviews, no deposit bonuses, freeroll, rakeback, tools & software, strategy, casinos, articles to jackpots and the latest news from the world of poker.
Categories
Latest News
Poker Networks

Poker Games

Video Poker

Online Bingo
Search
Poker Tools
100K Free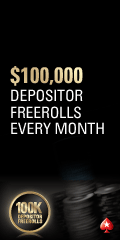 Cube Poker

Newsletter
Subscribe to our free newsletter for all the latest poker bonus, promotions and freeroll news.
Poker Reviews
Top Articles
No Deposit Bonus
Free Trail