Play Poker and Win
The Best Poker Tips
Poker is one of the most interesting and lucrative games to play - both online and offline. Poker enthusiasts are offered the opportunity to participate in poker tournaments with large prizes that often comprise millions of dollars. Some of these poker tournaments like the WSOP, EPT and WPT also provide the winner with fame and recognition in addition to making that player a millionaire overnight.
Since poker is a game of skill and not luck, the demand for smart poker strategies, poker tricks and the best tips to win a poker game or tournament is never ending. Here are some of the best poker tips to help you win the poker games and tournaments that you participate in.
Never play more than two hands – If you are objective is to win and win big, and if you are participating in a high stakes game, then it is important to keep your focus and not divide it between several hands of poker. Multi-hand poker is also a good way of making money, but serious poker players know better than to take on too many hands at once.
Keep your emotions under control – Psychology is vital when you are playing poker and it is essential to keep calm and cool-headed during gameplay. A big loss or a hand of bad cards can affect your temperament and there will also be poker players whose style of play or behavior may aggravate you. In this case it is advisable to stop playing or take a break if you feel yourself lose control as strong emotions can cause a player to make bad decisions, calls and wagers, affecting both his bankroll and his game.
Play tight-aggressive unless you are seeking to bluff your opponent – This is one of the safest ways of playing poker and involves a player keeping a strong on his bankroll and concentrating wholly on his cards. Aggressive play does not involve taking risks but making strong wagers and playing to win.
Know when to fold – Many players do not know when to fold and as a result end up losing a lot of money at the poker table. Players can make the mistake of sticking with a hand just because they have it and playing it out till the end, despite the fact that it will not bring them a win.
Watch your opponents – Poker is not just about you and the cards, and as any poker professionals will tell you, it is important to keep an eye on your opponents and evaluate his style of game play. It is also advisable to study your opponent's game while he is playing with others so you can determine his tricks and strategy and use it to your advantage when you are playing him.
Set your Bankroll limits – When playing poker it is important to set a limit for yourself as you do not want to play too high and end up losing more money than you can afford. If you are new to poker, stick to the games with minimum buy-ins and low limits and only attempt high stake poker games or no limit poker games if you are sure of your skills.

---
Cube Poker
Welcome to CubePoker ! Your website for the best online poker bonus reviews, no deposit bonuses, freeroll, rakeback, tools & software, strategy, casinos, articles to jackpots and the latest news from the world of poker.
Categories
Latest News
Poker Networks

Poker Games

Video Poker

Online Bingo
Search
Poker Tools
100K Free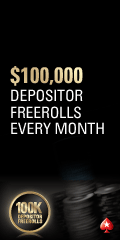 Cube Poker

Newsletter
Subscribe to our free newsletter for all the latest poker bonus, promotions and freeroll news.
Poker Reviews
Top Articles
No Deposit Bonus
Free Trail